Club Email System
PENDING THIS INFORMATION IS FOR THE NEW G SUITE BASED SYSTEM THAT IS NOT YET IN USE
Aliases
Creating and managing aliases that target email addresses outside of ocarc.ca can be a little bit complicated.
Permissions for these groups should be set as shown: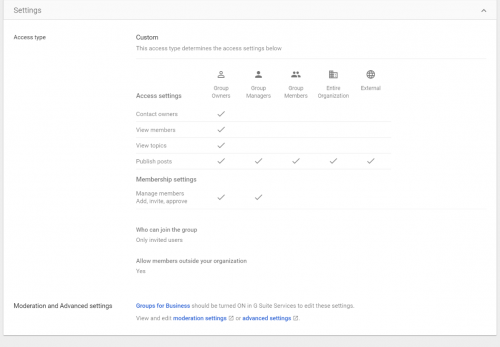 Members can then be added with the role Member, the roles Owner and Manager should not be used for these groups.
Mailing Lists
OCARC maintains several official mailing lists that are used to distribute club information and conduct business. You can think of these as a system similar to reflectors your email goes in and comes out in multiple places.
A Note About Replies - When replying to messages received from these lists your email client will decide how it is done. Generall choosing 'Reply' will only reply to the sender of the message while 'Reply All' will send your response to the list.
Name
E-Mail Address
Purpose
Notes
Access
General Membership
members@ocarc.ca
Official Club mailings and notices
Please only post notices and similar. Keep off topic or not club related messages in the ragchew list.

OCARC Members


Moderated posting from members.

Executive
executive@ocarc.ca
Contacting the executive
list-executive@ocarc.ca is still a valid address
OCARC Executive

(anyone can post)




Ragchew
ragchew@ocarc.ca
General Amateur Radio related discussion
This is an open list that anyone is welcome to join and leave at anytime


Send an email to ragchew+subscribe@ocarc.ca to join
Send an email to ragchew+unsubscribe@ocarc.ca to leave
(You must be a subscriber to post to the group)

Public
Technical Committee
technical@ocarc.ca
Technical Committee discussion and planning
This is an open list that anyone is welcome to join and leave at anytime. Requests to join are moderated by existing members.


Send an email to technical+subscribe@ocarc.ca to join
Send an email to technical+unsubscribe@ocarc.ca to leave
(You must be a subscriber to post to the group)

Technical Committee